Definitions from Investopedia
Broker: Common name used to define, generally, firms that act as the middle-man in the financial markets. There are two types of brokers, market makers or ECNs.
ECN: Electronic Currency Network. Directs the client straight through the interbank market, usually resulting in tighter spreads. Most ECN's have a fixed commission per roun/turn lot.
Market Maker: Middle-man between the interbank market and the retail user. The interbank liquidity provider charges the market maker a small commission for providing access to tradeable volumes. The market maker also charges commission to its clients (in the form of spread, direct commission or both) to provide them access to tradeable prices in the currencies market.
Copper Prices
Members of Canadian Exchanges
(with contact information)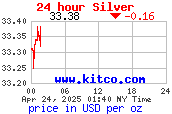 | | | |
| --- | --- | --- |
| Company | | National Bank Direct Brokerage Inc |
| | | |
| | | |
| Address | | 7th Floor - 1100 University Street |
| | | Montreal, QC, H3B 2G7 |
| | | |
| | | |
| | | |
| Phone # | | (514) 394-5555 |
| | | |
| Fax # | | (514) 394-6298 |
| | | |
| Website | | www.nbc.ca |
| | | |
| Email | | web.trad@bnc.ca |
| | | |
| | | |
| Market ID | | 252 |
| | | |
| Branches | | |
| | | |
| Comments | | Please contact company directly for additional information. |